Fortune Delight
Sunrider's most popular herbal beverages
Watch Video then Scroll Down for More Information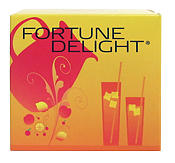 Fortune Delight®
Fortune Delight is a naturally revitalizing herbal beverage designed to cleanse as well as nourish the body. Fortune Delight® is formulated with an aromatic blend of concentrated herbal extracts containing polyphenols, bioflavonoids, and tea catechins all none sources of antioxidants. Fortune Delight® also contains electrolytes, aids in the digestion process and makes a great addition to a weight management program.
Fortune Delight® is conveniently packaged in 3 gram powder packages, comes in five flavours: Lemon, Cinnamon, Raspberry, Peach and Regular and is refreshing served ice-cold or soothing served hot. Fortune Delight® contains no caffeine, sugar or artificial sweeteners. Each 3 gram package can be mixed with 1-2 cups of cold or hot water.
Ingredients: Green Tea Leaf, Chrysanthemum Flower, Jasmine Leaf and Lalang Grass Root and Natural Flavour.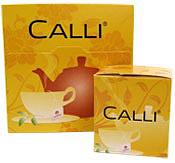 Calli®
Calli is Sunrider's Super Tea but without the caffeine and tannic acid that are normally in tea. The unique way that Sunrider formulates and concentrates their products, allows the release of tea catechins, antioxidants, and bioflavonoids in such a way that is not possible in traditional grinding.
Originally when the Calli® formula was developed, about 1500 years ago in China, it was consumed to help improve focus and mental clarity. Calli assists in the natural cleansing processes of the body in general. Calli® is sold in tea bag form and is available in Regular, Mint, Cinnamon and Night Calli and contains no sugar or artificial sweeteners. Mix one bag with 1-6 cups of hot water.
Ingredients: Green Tea Leaf, Perilla Leaf, Morus Bark, Alisma Rhizome and Natural Flavour.
Calli Night
With just one tea bag, you can have a relaxing night. There are no chemicals or caffeine added to this all-natural formula.
Suncare® and Suncare Plus® (product of Canada) Or Sunectar® and Sunnydew® (product of U.S.)
Very effective at balancing blood sugars, sweet to the taste, but convert to blood sugar slowly keeping blood sugars level. Another benefit is the support to the adrenals and pancreas as well as being anti-fungal.
SUNCARE® and SUNECTAR® are dark in colour while SUNCARE PLUS® and SUNNYDEW® are clear. The only difference is the flavour but both are very popular. These products contain no preservatives, no calories and are safe to use throughout the day. The main ingredient is Stevia Extract and is combined with Chrysanthemum Flower to perfect and preserve the formula naturally.
The two products sold in the U.S., are sold as a dietary supplements. In Canada, they are sold as skincare products even though identical to the US products . . . but occasionally Canadians get some in their mouth.