Watch Video then Scroll Down for More Information
Basic Herbal Foods & Beverages
Create a foundation with Sunrider's basic foods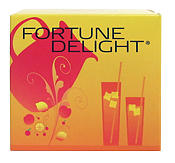 Fortune Delight®
Fortune Delight is a naturally revitalizing herbal beverage designed to cleanse as well as nourish the body. Fortune Delight® is formulated with an aromatic blend of concentrated herbal extracts containing polyphenols, bioflavonoids, and tea catechins all none sources of antioxidants. Fortune Delight® also contains electrolytes, aids in the digestion process and makes a great addition to a weight management program.
Fortune Delight® is conveniently packaged in 3 gram powder packages, comes in five flavours: Lemon, Cinnamon, Raspberry, Peach and Regular and is refreshing served ice-cold or soothing served hot. Fortune Delight® contains no caffeine, sugar or artificial sweeteners. Each 3 gram package can be mixed with 1-2 cups of cold or hot water.
Ingredients: Green Tea Leaf, Chrysanthemum Flower, Jasmine Leaf and Lalang Grass Root and Natural Flavour.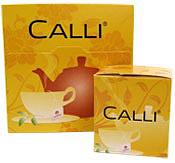 Calli®
Calli is Sunrider's Super Tea but without the caffeine and tannic acid that are normally in tea. The unique way that Sunrider formulates and concentrates their products, allows the release of tea catechins, antioxidants, and bioflavonoids in such a way that is not possible in traditional grinding.
Originally when the Calli® formula was developed, about 1500 years ago in China, it was consumed to help improve focus and mental clarity. Calli assists in the natural cleansing processes of the body in general. Calli® is sold in tea bag form and is available in Regular, Mint, Cinnamon and Night Calli and contains no sugar or artificial sweeteners. Mix one bag with 1-6 cups of hot water.
Ingredients: Green Tea Leaf, Perilla Leaf, Morus Bark, Alisma Rhizome and Natural Flavour.
Suncare® and Suncare Plus® (product of Canada) Or Sunectar® and Sunnydew® (product of U.S.)
Very effective at balancing blood sugars, sweet to the taste, but convert to blood sugar slowly keeping blood sugars level. Another benefit is the support to the adrenals and pancreas as well as being anti-fungal.
SUNCARE® and SUNECTAR® are dark in colour while SUNCARE PLUS® and SUNNYDEW® are clear. The only difference is the flavour but both are very popular. These products contain no preservatives, no calories and are safe to use throughout the day. The main ingredient is Stevia Extract and is combined with Chrysanthemum Flower to perfect and preserve the formula naturally.
The two products sold in the U.S., are sold as a dietary supplements. In Canada, they are sold as skincare products even though identical to the US products . . . but occasionally Canadians get some in their mouth.
NuPlus®
Sunrider's basic herbal food staple. NuPlus® is a nutritionally dense herbal food that contains 60-65 calories depending on flavour, 0 fiber, and 3 grams of protein per serving. NuPlus® comes in five delicious flavours: Pina Banana, Mixed Berry, Apple Cinnamon, Simply Herbs, and Original. Simply Herbs and Original NuPlus® both consist of 100% complex carbohydrates and Original NuPlus® is formulated with no beans. The NuPlus® fruit flavours consist of 91% complex carbohydrates and 9% simple carbohydrates.
NuPlus® makes a very nutritious addition to breakfast, can be consumed as a mid-meal snack or before and after a workout. As well as being very satisfying, NuPlus® helps curb cravings for unhealthy foods and is very easy to digest. NuPlus® is sold in 10 and 60 pack boxes of 15 gram servings.
Ingredients for Pina Banana Nuplus: Coix Lacryma – Jobi Seed, Soybean Seed, Chinese Yam Root, Euryale Ferox (Fox Nut) Seed, Nelumbo Nucifera (Lotus) Seed, Nelumbo Nucifera (Lotus) Root, Pyrus Malus (Apple) Fruit, Lilium Brownii (Waterlily) Bulb, Phaseolus Vulgaris (Green Bean) Seed, Phaseolus Vulgaris (Red Bean) Seed, Phaseolus Vulgaris (Black Bean) Seed, Phaseolus Vulgaris (White Bean) Seed and Imperata Root, Banana Fruit and Pineapple Fruit.
VITASHAKE®
Sunrider's other herbal food staple. VitaShake® is a nutritionally dense herbal food that is similar to NuPlus® except VitaShake® contains added vitamins and minerals, a pre-biotic for intestinal health, 95 calories, 3 grams of fibre, and 4 grams of protein per serving. VitaShake® comes in two flavours- Chocolate and Strawberry and makes a very nutritious breakfast, can be consumed as a mid-meal snack or before and after a workout. As well as being very satisfying, VitaShake® helps curb cravings for unhealthy foods and is very easy to digest. VitaShake® is sold in 10 pack boxes of 25 gram servings.
Ingredients for Chocolate VitaShake®: Coix Lacryma-Jobi Seed, Fructose, Soy Protein, Alkali Processed Cocoa Powder, Fructooligosaccharides, Natural Flavour, Chinese Yam, Fox Nut Seed, Maltodextrin, Lotus Seed, Lotus Root, Water Lily Bulb, Potassium Phosphate, Calcium Phosphate, Imperata Root, Magnesium Oxide, Stearic Acid, Carrageenan, Calcium Carbonate, Soy Lecithin, Xanthan Gum, Manganese, Niacinamide Ascorbate, Chromium, Fumarate, Molybdenum, Selenium, Vegatable Oil, Vitamin E, Zinc Oxide, Copper Gluconate, Calcium Pantothenate, Vitamin A, Vitamin B6, Thiamin, Riboflavin, Folic Acid, Biotin, Iodine, Vitamin K, Vitamin D, and Vitamin B12.
Sunbars®
A very nutritious, easy to digest meal replacement bar, it consists of 3 grams of fibre, 6-7 grams of protein, depending on the flavor, 3 grams of fat, 2 grams of sugar, and contains 120 calories per 30-gram bar. Sunbars® come in 3 delicious flavors; Fruit, Chocolate, and Oatmeal Raisin. Eat 1-2 per day (or more) at meal times or as an in-between meal snack; also fabulous before or after exercise. Drink a cup of Fortune Delight or water with each bar.
Ingredients: Soy Protein Nuggets, Apple Juice, Psyllium, Bananas, Mangos, Pineapple juice, Strawberry Powder, Almonds, Honey, Lycii fruit, Chinese Asparagus Root, Coix fruit, Soybean oil and Wheat Germ oil.
Sunfit Protein Plus ®
This product is more than just another protein shake! Protein Plus is a balanced – nutritionally dense protein product… that is easy to digest. Protein is a crucial element for cell development and replacement… and many other functions like the support and repair of muscle tissue and tendons. Something to note… is that as we age, our ability to digest foods efficiently… often diminishes somewhat. Being this is the case, and the fact that protein is more difficult to digest in the first place… people can end up not assimilating as much protein as they require… especially seniors.
Protein Plus is a balanced food for nourishing the whole body. This 100% vegan formula nourishes the body with a balanced blend of essential nutrients from whole foods, plus it provides ample protein to fuel muscles, support energy, and aid in recovery. There is no added sugar, dairy, artificial sweeteners, or chemical additives which makes it ideal for health and for fitness enthusiasts.
An independent study by Vitality Analysis, which is a testing platform that many Sunrider consumers use, has shown that Sunfit Protein Plus to be significantly superior over the other protein products tested.
Protein Plus comes in 680-gram canisters and in vanilla flavour in Canada at this time, and more flavours in the US. Serving size: 2 level scoops = (40g), provides 160 calories, 20g of protein, 2g fat, 182 mg sodium, 15g carbohydrate, 6g fibre and 1g sugar.
How to use it? Most people add a single scoop of Protein Plus to a serving or half serving of Nuplus or Vitashake and mix to their liking.
Ingredients: Pea protein, rice protein, pearl barley, chicory root fiber, coix lacryma-jobi seed, bamboo fiber, modified oat flour, calcium (phosphate), Chinese yam, stevia leaf extract, potassium carrageenan, magnesium (oxide), stearic acid, euryale ferox (fox nut) seed, nelumbo nucifera (lotus) seed, nelumbo nucifera (lotus) root, lilium brownii (waterlily) bulb, imperata root, xanthan gum, natural vanilla flavor, vitamin C (ascorbic acid), zinc (gluconate), iron (fumarate), vitamin E (d-a-tocopherol succinate), niacinamide ascorbate, vitamin A (beta carotene), manganese (sulfate), cholecalciferol, copper (gluconate), pantothenic acid (calcium), vitamin B6 (pyridoxine HCI), riboflavin, thiamin (mononitrate), iodine (potassium iodide), folate (folic acid), chromium (chloride), selenium (selenomethionine), ammonium molybdate, biotin, vitamin K1 (phytonadione) and vitamin B12 (cyanocobalamine)
Five systems Quinary formulas support:
Digestive – AD®
(Assimilaid® in the U.S.)
Immune – Alpha 20C®
Respiratory – Conco®
Circulation – LS®
(Lifestream® in the U.S.)
Endocrine – PA®
(Prime Again® in the U.S.)
Quinary®
There are many reasons our body systems become imbalanced or weak, including diet, genetics and stress. Quinary® is a Sunrider product consisting of 43 herbal foods that are formulated to help balance and strengthen your five main body systems. Quinary® can be purchased as a complete product that nourishes the five systems of the body, or as five separate formulas, each supporting one of the five systems. When the five formulas are consumed together the results are the greatest, as your five systems communicate and depend on the strength of one another. Dr. Chen explains it like this: If you had a team of five horses with one horse being weak, you would nourish all five horses plus give the weak horse a little extra support. Most people consume the Quinary® formula and supplement with the separate Quinary® formulas as needed.
Quinary® is sold in 100 capsule bottles, as are the individual Quinary® formulas. Quinary® can also be purchased in boxes of ten or sixty 3-gram packages. Most consumers purchase the capsules to begin with. Start by taking 3-4 capsules each morning before breakfast. Any less is a child's dose. You can open up the capsules if you wish and drink as a tea with hot water and 3-4 drops of Suncare or Sunectar. If you purchase the powder, there are 10 capsules worth of powder in each envelope, so adjust accordingly. Take as much as you want and any time you feel your body needs extra support.
Ingredients: Chinese White Flower, Scutellaria Herb, Dandelion Root, Gou Teng, Licorice Root, Tora Seed, Mint Herb, Paris Herb, Fennel Seed, Cinnamon Bark, Poria (Mushroom Powder), Chinese Yam, Ginger Root, Sophora Flower, Barrenwort Herb, Chuan Xiong Root, Mongoliavine Root, Fang Feng Root, Ginseng Root, Honeysuckle Flower (Silver Flower), Yeuan Wu Root, Chrysanthemum Flower, Dipsacus Root, Angelica Root, Alpina Ginger Root, Angelica Centis Root, Leek Seed, Balloon Flower Root, Bamboo Leaf, Dwarf Lilyturf Root, Papermulberry Seed, Senega Root, Imperate Root, Forty-Knot Root, Reed Root, Rhubarb Root, Broomrape Herb, Chinese Catnip, Asias Herb, Bai-zhu Root, Eucommia Bark, and Morinda Root.